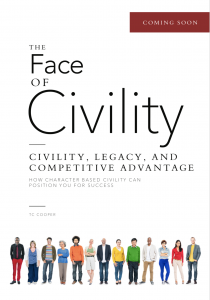 All around the world, there is evidence that we are experiencing a crisis of conscience, of character, and of civility.  In response to high demand from community leaders and grassroots civility and change organizations all over the world, who are engaging in conversations about civility, Propriety Publishing, a niche publishing company with a focus on promoting and publishing books on civility and social competence-related topics is pleased to announce the release of THE FACE OF CIVILITY – the book is a compilation book where a collective of experts in their fields share their stories of civility.
Author TC Cooper is a best-selling author, keynote speaker, business coach, and an attorney. She has a significant legal career that started with her being a private equity attorney at a large international law firm headquartered in New York City, and then providing expert legal counsel as in-house counsel for a publicly traded luxury watch brand, and then in government. TC has been seen in publications that include Black Enterprise Magazine, California Bar Journal, New Jersey's InBiz Magazine, the National Speaker Association's Speaker Magazine, Productive Business Network, and the Washington Lawyer Magazine.
"Civility as a business norm doesn't just happen; it is the result of clearly communicated values, incentivized behavior that is cultural, and leadership by example."  TC Cooper
TC Cooper writes about Sustainable success flows when character-based civility penetrates every aspect of business from negotiations in the board room, to hiring practices in human resources and workforce development, and in the day-to-day running of businesses.
In the chapter she writes for this compilation, you will learn:
What character-based civility means.
The impact of undervaluing character and civility in business.
7 strategies for building a character-based business that builds opportunity, revenue, and
reputation.
"The Face of Civility" is a series of collaboration books by change-makers around the globe. The books are part of The Golden Rule Civility Initiative, which is co-created by Canadian Dr. Lew Bayer and American Dr. Clyde Rivers.
"There are over seven billion people in the world and they have to communicate effectively daily to move society forward in a positive way. Experiencing the chaos we see every day from our media outlets and the social media machinery, is wearing away our character and we need to find our way back to positive people-treatment and honor."  Dr. Clyde Rivers
Dr. Rivers and his team have collaborated with Dr. Lew Bayer, CEO Civility Experts Worldwide, and her team – recognized around the world as the leading experts on civility – to create a solution for interrupting the incivility and shifting uncivil discourse going on in our societies.
"The time for talking about solutions and thinking about how we should be kinder and more civil is passed, it's time for leadership, it's time for change and we need to act. The contributors to the Face of Civility books are action-takers, change-makers…social architects who are making the world a better place." Lew Beyer   
Enter your contact details below to be among the first to learn when this powerful new book is available to the public.